Are you interested in doing an MSc thesis with my team? Here are some general points for you to consider. Note: some of these points are specific to TPM MSc theses, but most of them are equally valid for SET and external students.
Proposal. There are two purposes to the thesis proposal. First, it is the basis on which you and your supervisor(s) agree to work together, and agreement on the proposal is a requirement in our group before you can officially begin your thesis. It is not set in stone, but based on experience, having a clear basis to work from will make everybody's life easier. Second, it is your work plan for the rest of your thesis. The thesis work has to be feasible within the length of time allotted by the MSc program you are in, and a clear proposal can be used to judge whether there will be sufficient time before you start - thereby avoiding issues later. If your first one or two sub-questions (see below) relate to literature review and/or establishing what methods to use, you need to have made a first stab at answering them in order to produce a credible proposal that you can use as a project plan.
Research question. The most important thing is your (scientific) research question: something that you want to find out about the world, that we do not already know. You only need one question, though it can be helpful to split out several sub-questions for different parts of the research process (see below).
Structure. Unless there is an important reason to deviate from it, it is best to stick to the commonly used structure of scientific writing so that readers know where to find the information they need: Introduction, Background / Literature Review, Methods, Results, Discussion, Conclusion, adding sub-headings within these chapters as needed. The figure below shows how you might map out the different parts of the thesis into sub-questions.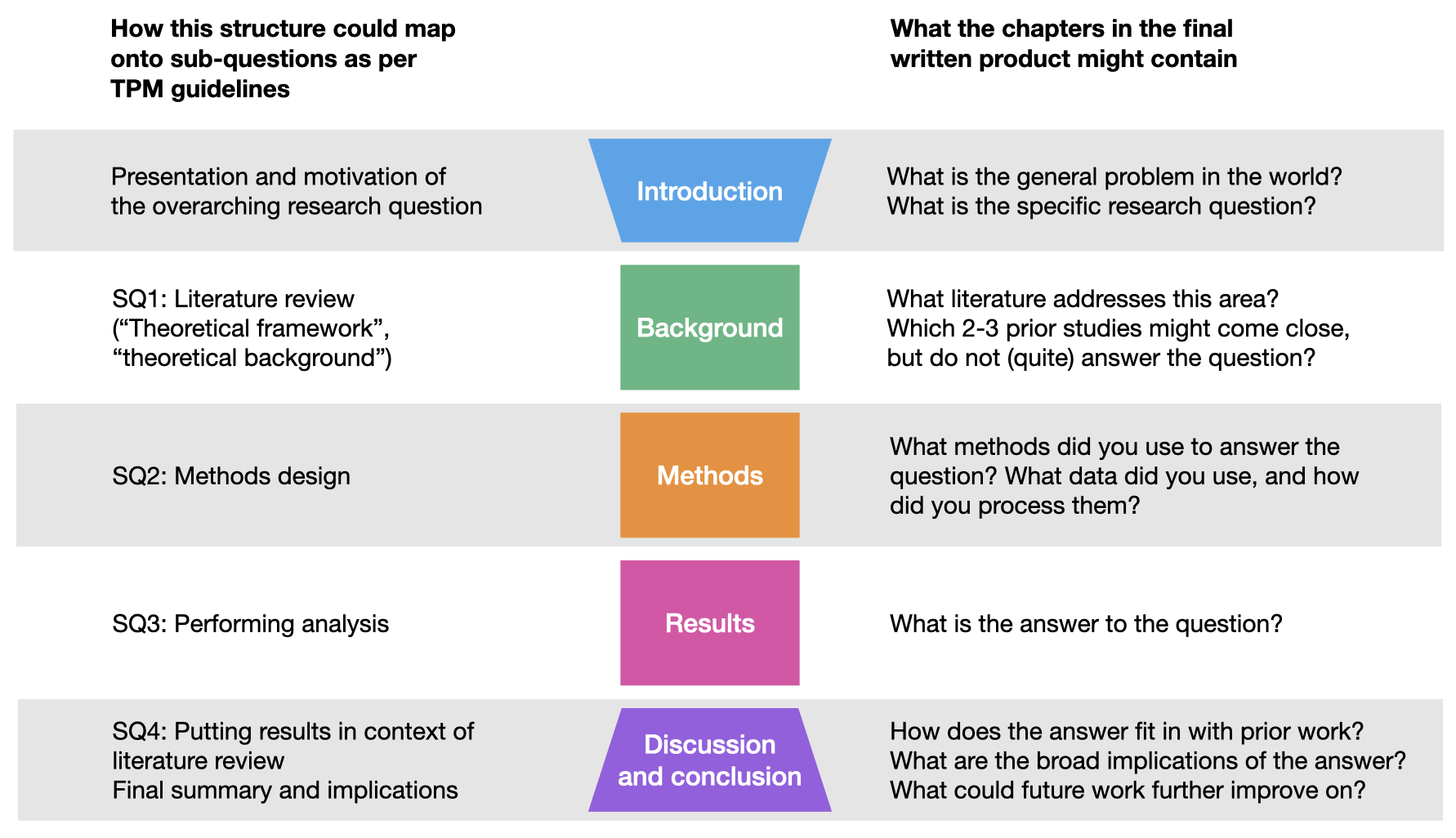 Language. Use the thesis as an opportunity to practice your writing skills. Write in the active voice. Write as concisely as possible. Being able to produce clear and concise language is a powerful skill no matter where you end up. This is not something you can learn overnight, but comes with practice. Useful resources:
Literature management. I use and recommend Zotero. It's free and open-source, so you will never lose access to it no matter where you work.